Pecha Kucha, Vol 13
December 5, 2017 @ 7:00 pm

-

9:00 pm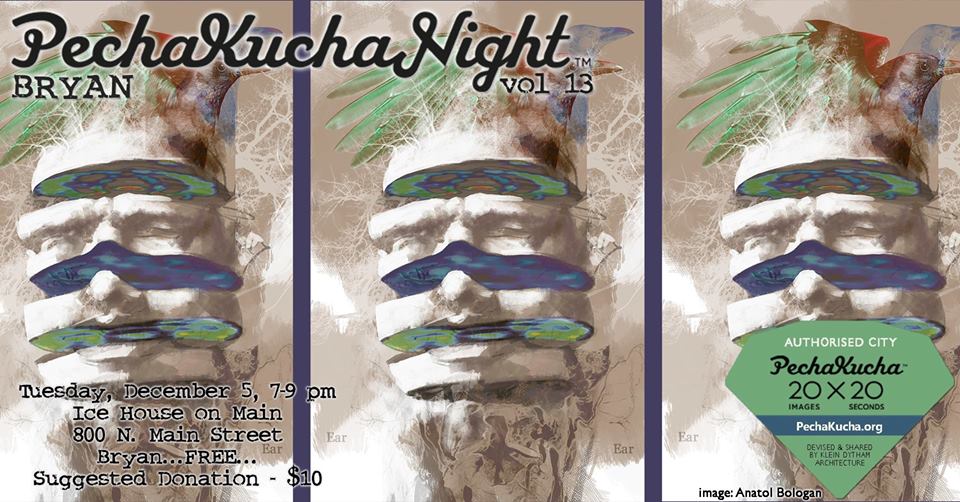 It's Pecha Kucha time! Come join us at Ice House on Main, Tuesday, December 5 at 7 pm, where we will hear fascinating presentations from local people. Here are what they will be talking about in their own words:
Eddie Coulson :: Depth vs Breadth
Presentation Description: How does a school truly make an impact on its students, parents and employees? How does a school create meaning beyond the curriculum and content it teaches? How does a school thrive, not just survive? How does a school "go deep" with the people it serves? These are a few of the questions that motivate leaders to transform their schools into learning organizations, not just places to warehouse students and teachers. This presentation will bring forth ideas that challenge the traditional educational system, spark new ideas and raise new questions about meeting the needs of students, teachers, parents and communities.
Sarah Doyle :: In General
Description: Why generalizations are actually a necessary part of our lives and how they have inspired my body of work.
Daniil Liederman :: Witches!
My presentation will be entitled "Witches!" and it will explore the issue of whether or not there actually were people who identified as witches in Medieval and Renaissance Europe, and what this might have meant, through the research of the archaeologist and anthropologist Margaret Murray and the historian Carlo Ginzberg.
Anatol Bologan :: Prototyping the Posthuman Self
Exploring the confluence of the human body, science and technology
The focus of my art-based research is to develop a series of digital and interactive artworks that engage the viewer with the discourse of humanism versus technicism by immersing the viewers into a multisensory interactive space. Interdisciplinary at its core, the project engages scientific, medical and technology-based research and imaging in the fields of human anatomy, perception, neurology and computer science. It uses concepts of artificial intel¬ligence and medical imaging as source material for artwork that consists of digital images, sculptures and interactive installations. The digital paintings, interactive sculptures as well as the interactive installations explore the confluence of human body, science and technology to further enquire and attempt to answer the question: "What is the Human?"
Admission is free but there is a suggested donation of $10 to help us continue bringing this great initiative in our community.