History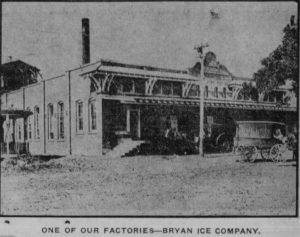 Ice House on Main was built in 1912 as the Bryan Ice Company and was one of the most extensive and complete plants of its time. Ice was delivered by railroad, processed, and stored in the building's cork-lined rooms before being sold to area merchants and families for use in coolers and ice boxes. Central to the health and comfort of local residents, Ice House on Main has played a critical role in the  community from the very first day it opened.
Through the years, Ice House on Main has been home to a CocaCola distributor, furniture manufacturer, and a popular night club, Cell Block Five. Signs of the structure's storied past can still be seen throughout the building, especially in the banquet hall and bride room.
With its Mission Revival façade overlooking historic downtown, Ice House on Main boasts 20,000 sq. ft. of event and dining space. Situated at the North end of Bryan's historic district, Ice House on Main still boasts original materials, from wood floors with the rich patina from decades of wear, to the original wood beams, exposed brick, and other architectural elements. 
Redevelopment
With South end redevelopment well underway, Ice House on Main promises to provide an anchor for North end activity in downtown Bryan's Cultural and Heritage district where the redevelopment project has already served as a catalyst for further downtown development.
At Advent GX, we are honored to be leading the redevelopment of this important piece of our downtown history. This is a community development project, meaning it is developed by and for our community to enhance quality of life and spur economic growth. As with past projects, we are using innovation and entrepreneurship to support heritage preservation and inviting the community to share in the experience.
Already, we have received great support from the City of Bryan and the community. Some friends have contributed their ideas, others have lent their expertise to market research and planning, and others have invested in the project through our community development fund.
We invite you to explore this site, share your ideas and feedback, and contact us if you'd like to learn more, book an event, or join in the effort as an investor. 
Ice House on Main from AdventGX on Vimeo.
Operations
Now that we are open for business, events at Ice House on Main are managed by Downtown Bryan Events, a division of Advent GX. Ice House on Main is the fourth venue we have operated and is now the flagship downtown location for events steeped in history. Like Ice House on Main, all of our venues were developed using adaptive reuse, preserving the original character and history of the spaces, exposing scars developed over time, and preserving the history and uniqueness of these cherished spaces.